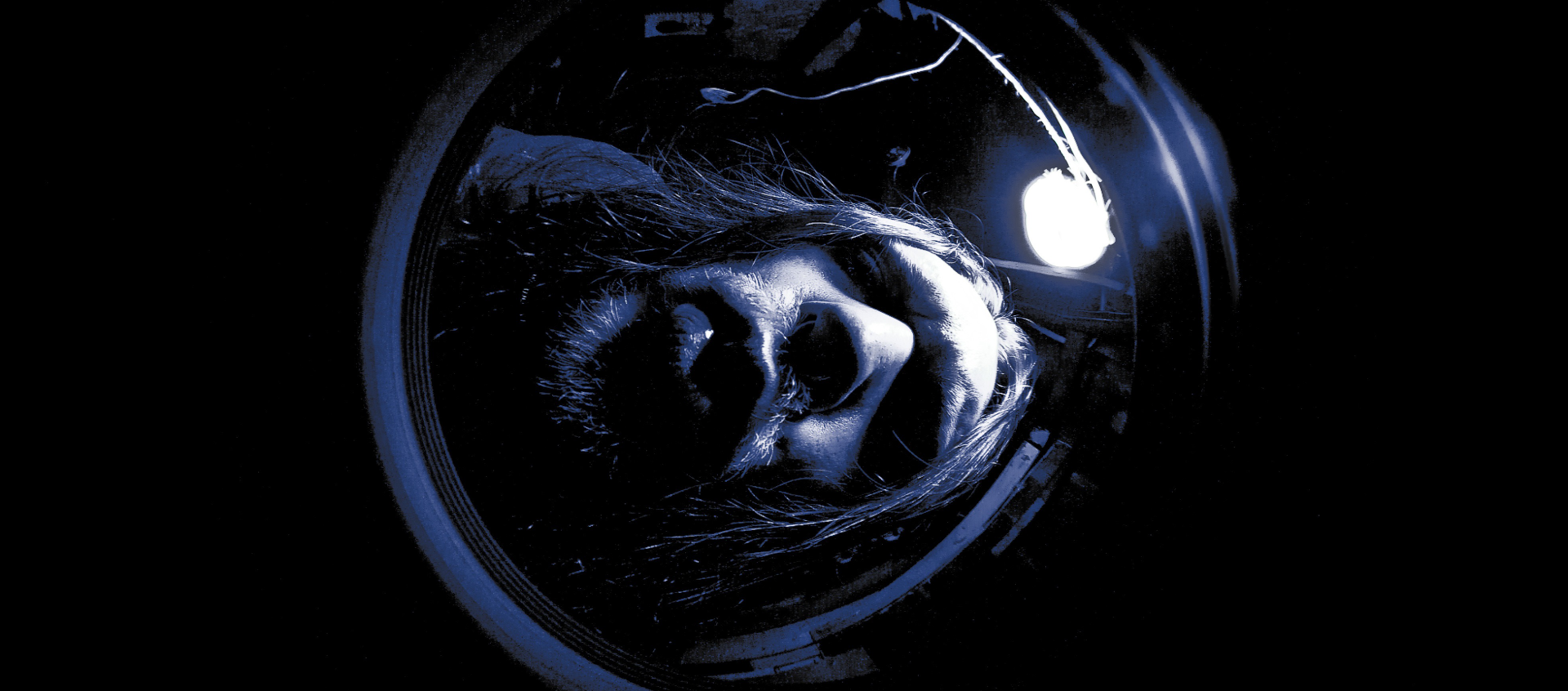 str1ng - aka Josh Steinke - is in the business of carving dark sonic landscapes out of raw ether. Sometimes harsh and relentless, other times melodic and graceful, his sound is utterly unique.
Currently, he is collaborating with Keegan Quinn on various nonexistent impossibilities. In the past, str1ng was also involved with the analog synthesizer jam project Juno Process.
Biography
In the year 1996 CE, str1ng purchased the first of many vintage analog synths: a Roland Juno 106. No one could have known this would lead to a life-long obsession with electronic music. By 1997, he had put together a complete home recording studio consisting of the Juno 106, Micromoog, Minimoog, Yamaha RX-5, Yamaha CS-20M, Sequential Circuits Prophet-5, two Boss drum machines and a wide array of effects including a vintage tape delay unit.
Equipped with this arsenal of gear, str1ng began participating in a series of jam sessions with high school friend Matt Traxler, experimenting with the array of synthesizers to great effect. He also met an electronic producer known only as "Simm," and it was with this group that the project known as Juno Process materialized. The group's first and only album, 23space, was released in 1998.
Over the next year, str1ng worked tirelessly, learning and utilizing the FruityLoops music production software to create a powerful new digital sound. This work eventually led to his debut solo album in 1999, entitled Transparent Pleasancies.
str1ng started working on new material in 2001, focusing on a more guitar-oriented musical perspective. This project was executed as a covert operation, compiling audio data from an underground research lab in an undisclosed remote location. Specific details have never been made available, even to the label. Eventually, audio output was transmitted to a post-production facility, and Spasm was released in 2002, including a featured track with producer kQ. Originally, the album was released under the project codename, blueVertigo; the 2011 re-release no longer uses this alternate name, although it still appears on the album cover.
In 2003 and 2004, str1ng worked on a new set of compositions: his Selected Ambient Works - named after and inspired by the Aphex Twin series by the same title. This work was done with Cubase, marking the progression into more complex musical territory. Although dozens of tracks were created during this period, none of them have yet been released; this material may be made available at some point in the future.
Also in 2003, str1ng was featured as a major contributor on the experimental underground compilation Triple Penetration. Included on this release were lanrac and dad's gun from Transparent Pleasancies, Velvet from Spasm, and several other unreleased tracks from the Selected Ambient Works era.
For the next few years, str1ng continued making music, although his primary focus shifted towards visual arts while he continued to expand and refine his audio processing capabilities and production skills. Further works from this period may be made available at some point in the future.
In 2010, str1ng found a new source of inspiration when he discovered dubstep; he felt a strong affinity with the way that it used the same kind of raw, dirty sound that he had developed over the years. This fresh infusion of dubstep energy, combined with the addition of Ableton Live to the sonic arsenal, soon led to a series of new tracks, culminating in a live performance in Stevens Point, Wisconsin on December 7th, 2011 - str1ng's first in many years. This new material was soon adapted for an EP release, entitled Superwerd.
The next couple years were spent in the studio, continuing the development and refinement of the str1ng sound. The next album, Errorstar, was released on January 14th, 2014, followed soon by the first-ever music video single, Monoblar 7.
The next few years were spent developing material, and in 2019 the results were unveiled in a series of six EPs. That year also saw the release of three collaborative singles with Keegan Quinn.